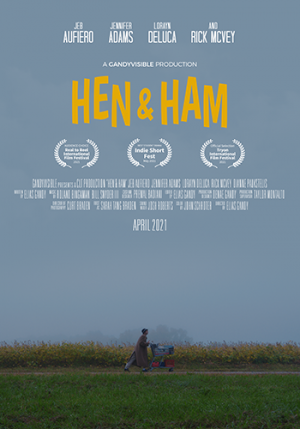 Hen & Ham
Films
34MIN
Availability ended 11/11/2021 EST

While searching for his father, a lonely teen befriends an older woman suffering from Alzheimer's.
Elias has written and directed over 12 short films, many of which have gone on to win awards in festivals all over the country. He has a true passion for people and a heart for story. His mission is to make films that allow his audience to identify with unique perspectives by creating impactful stories, with powerful visuals, and engaging characters.




Director Statement




I've been passionate about film for as long as I can remember, but this is the first time I felt as though I HAD to tell a story.




At its core, Hen & Ham is an exploration of life and death. The question remains, can a life beyond the grave be just as impactful as one living? Hen & Ham seeks to unpack this mindset and shed light on what it means to live a meaningful, compelling existence.




The ideas at the center of Hen & Ham took on a new dimension for me when my great-grandmother passed at the beginning of 2017. Watching the interactions and conversations that took place around her passing changed my perspective on death and what it means to positively impact your world and those living in it.




It is my hope that Hen & Ham takes you by surprise. I hope it makes you prioritize. I hope it makes you consider death in a positive way. Maybe less as a stark, dark ending but more as an unwritten and unprecedented new beginning.




- Elias Gandy
Credits
Directed by Elias Gandy
Written by Elias Gandy
Production Company GandyVisible
Produced by Samuel Gandy
Cast Jeb Aufiero
Jennifer Adams
Lorayn DeLuca
Rick McVey
Dianne Puakstelis
Vincent Felice
Joya Joseph
Kimberly Dubay